PIPETMAN M Multichannel P8x100M, 10-100 µL
With four pre-programmed pipetting modes and one custom mode available, the electronic PIPETMAN® M pipettes combines the simplicity of a mechanical pipette with the consistency of electronic liquid handling. Its lightweight, ergonomic design requires only very short pipetting strokes, making it comfortable to use. The PIPETMAN M range consists of eight single channel models (from 0.5 µL to 10 mL) and twelve multichannel models (from 0.5 µL to 1200 µL).
Consistency and Accuracy Across All Users
PIPETMAN M gives your pipetting tasks the consistency you would expect from sophisticated liquid handling systems. Designed for guaranteed accuracy and reproducibility in both standard and repetitive pipetting modes, the PIPETMAN M pipettes are synonymous with reliable sample preparation. Likewise, the multichannel PIPETMAN M models takes user variability out of plate filling. With their patented piston drive mechanism, the multichannel models provide absolute consistency in volume distribution across each channel.
Pipette with Less Effort
The easy-to-use PIPETMAN M uses a two button-operation to reach all menu options. Simply scroll between the four standard pipetting modes-pipet, repetitive, mix, and reverse-or choose to easily create custom protocols.
With the advanced PIPETMAN M software, you can create your own protocol including up to 40 tasks and confidently transfer it into your pipette.
To download the software, please email us at eshophk@gilson.com or call us at 852 2110 5726.
Pipette with More Comfort
Built from strong materials, the PIPETMAN M weight is optimized to create a perfectly balanced pipette with virtually zero pipetting forces for hours of pipetting comfort. Its award-winning designed body rests comfortably in your hand, and requires only a short pipetting stroke distance, which helps reduce repetitive stress injuries.
Specifications
| | |
| --- | --- |
| Pipette Model | P8x100M |
| Number of Channels | 8 |
| Pipette Type | Electronic Air Displacement |
| Adjustable or Fixed Volume | Adjustable Volume |
| Pipette Range | PIPETMAN M |
2023 Gilson Product Guide
The 2023 Gilson Product Guide is available now. Discover best sellers for your Liquid Handling, Purification, and Extraction needs!
Download
Gilson Services and Calibration Programs
Gilson is committed to quality and complete customer satisfaction with all of our products and services. Get system support, training programs and pipette service from the people who know Gilson products the best. We are here to help and provide you with dependable solutions to accommodate your needs.
LEARN MORE
COVID-19 Testing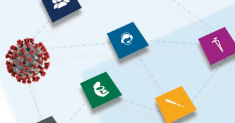 COVID-19 Testing: Liquid Handling Solutions to Support Your Efforts







LEARN MORE