Guiding You To Success
Get on track, keep on track, as you pipette flawlessly from one microplate to another with the help of TRACKMAN®.
Watch Video
Secure Your Results
TRACKMAN simplifies your work, improves your productivity and helps eliminate pipetting errors and cross-contamination.
Versatile Performance
The LED lights on TRACKMAN help you place your 96- and 384-well microplates in the correct position on the light panel, while fixed notches secure your plates firmly in place.
Complete Your Equipment
Expand the functionality of your TRACKMAN with the versatile microtube–holder to transfer liquids from one microtube to another (0.5 mL, 1.5 mL, and 2 mL).
Download PipetteScope/h2>
Specifications
| | |
| --- | --- |
| Dimensions | 280 mm x 170 mm x 23 mm |
| Weight | 0.490 kg |
2022 Gilson Product Guide
The 2022 Gilson Product Guide is available now. Discover best sellers for your Liquid Handling, Purification, and Extraction needs!
Download
Gilson Services and Calibration Programs
Gilson is committed to quality and complete customer satisfaction with all of our products and services. Get system support, training programs and pipette service from the people who know Gilson products the best. We are here to help and provide you with dependable solutions to accommodate your needs.
LEARN MORE
COVID-19 Testing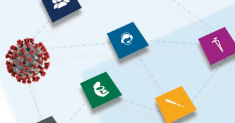 COVID-19 Testing: Liquid Handling Solutions to Support Your Efforts







LEARN MORE