PIPETMAN L Fixed F2L, 2 µL
The PIPETMAN® L Fixed pipettes offer the same comfortable, lightweight design as the variable volume models with a fixed volume that reduces the risk of any volume error during pipetting. This makes them an ideal choice for clinical diagnostics, quality control, and any routine testing applications even for non-trained lab technicians. Fifteen models of the air-displacement-based PIPETMAN L Fixed pipettes are available, covering a volume range of 1 µL to 5 mL.
Comfortable pipetting
Based on the ergonomic design of the original PIPETMAN L, the fixed volume model offers an ideal weight and handle shape. The more natural fit of the pipette lets you relax your grip, making it a more ergonomic option for your hand while pipetting. It also provides an adjustable tip ejector so it's easy to switch for either right- or left-handed users, whichever is most comfortable.
Flexible
The graduated cover can be readjusted by users for dense or viscous fluids (once reset, the new volume cannot be accidentally changed).
PIPETMAN L variable volume models are all fully autoclavable without disassembly for maximum convenience and protection from cross-contamination.
GLP Compliance
PIPETMAN L models feature a DataMatrix 2D code for easy traceability. Use a 2D code scanner to transfer the code automatically into any traceability or asset management system. Also, the pipette serial number is engraved on the body of the pipette for unique identification.
Specifications
| | |
| --- | --- |
| Pipette Model | F2L |
| Number of Channels | 1 |
| Pipette Type | Manual Air Displacement |
| Adjustable or Fixed Volume | Fixed Volume |
| Pipette Range | PIPETMAN L |
| Ejector Type | Plastic |
2023 Gilson Product Guide
The 2023 Gilson Product Guide is available now. Discover best sellers for your Liquid Handling, Purification, and Extraction needs!
Download
Gilson Services and Calibration Programs
Gilson is committed to quality and complete customer satisfaction with all of our products and services. Get system support, training programs and pipette service from the people who know Gilson products the best. We are here to help and provide you with dependable solutions to accommodate your needs.
LEARN MORE
COVID-19 Testing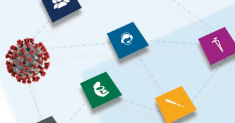 COVID-19 Testing: Liquid Handling Solutions to Support Your Efforts







LEARN MORE