Safe Aspiration Station, UK Plug
The Gilson Safe Aspiration Station is a stand-alone motorized vacuum system for quick and easy aspiration of biological liquid waste disposal. Liquids are quickly and safely aspirated and collected in a 4 L polypropylene bottle. The station offers adjustable aspiration speed and handles, ideal for ELISA tests, cell culture, and any other contaminated or hazardous liquid aspiration and disposal.
Safe and Contamination-Free
The closed, stand-alone unit is designed to prevent contamination hazards. All parts in contact with liquids are fully autoclavable.
The station is equipped with a level detection system to prevent liquid overflow and an in-line hydrophobic filter that traps aerosols for safe disposal of contaminated or hazardous liquids.
Adaptable
Different adapters are provided with the Safe Aspiration Kit and can be fitted to the hand operator. The station also ensures an adjustable aspiration level indicated by a board of LEDs.
The choice of the adapter and the easy setting of the vacuum level enables quick and accurate aspiration of liquids from a variety of vessels.
Convenient
Associated with the Safe Aspiration Kit, the Safe Aspiration Station is easy to use on a bench or in laminar flow cabinets. The unit is always ready to use. Simply press the button on the aspiration hand operator to aspirate.
The ergonomic hand operator can be stored on the bottle handle. The Safe Aspiration Kit also contains a stand with storage for the adapters and the hand operator to help your workspace remain clean and organized.
Specifications
| | |
| --- | --- |
| Pack Size | 1 |
| Pack Size Quantity | 1 |
2022 Gilson Product Guide
The 2022 Gilson Product Guide is available now. Discover best sellers for your Liquid Handling, Purification, and Extraction needs!
Download
Gilson Services and Calibration Programs
Gilson is committed to quality and complete customer satisfaction with all of our products and services. Get system support, training programs and pipette service from the people who know Gilson products the best. We are here to help and provide you with dependable solutions to accommodate your needs.
LEARN MORE
COVID-19 Testing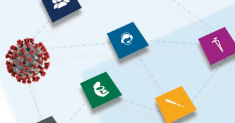 COVID-19 Testing: Liquid Handling Solutions to Support Your Efforts







LEARN MORE