Centry 101 Plate Centrifuge, UK plug
The CENTRY™ 101 Plate Centrifuge with its proprietary swing-out rotor design prevents microplate contents from spilling, increasing the reliability of your microplate reactions. The centrifuge accepts popular PCR plates and most microplates.
Decreased spill risk
The CENTRY 101 Plate Centrifuge offers a patented swing-out rotor design that keeps the microplate contents from spilling out while concentrating all reaction components in the well bottom, improving the accuracy of your reactions, such as sensitive PCR reactions. The rotor carriers rest at a 75° angle, allowing you to insert plates without sealing tape or caps. At speed, the microplates run vertically. The two-plate capacity CENTRY 101 Plate Centrifuge accommodates most PCR and microplates.
Small, but fast
Samples are spun down in less than 20 seconds at 2,550 rpm (600 x g). The centrifuge automatically stops when the lid is open and smoothly decelerates to a stop in four seconds. With a small footprint
(23 x 26 cm, 9.2 x 10.2 in.), the CENTRY 101 Plate Centrifuge easily fits into hoods and on crowded benchtops.
2022 Gilson Product Guide
The 2022 Gilson Product Guide is available now. Discover best sellers for your Liquid Handling, Purification, and Extraction needs!
Download
Gilson Services and Calibration Programs
Gilson is committed to quality and complete customer satisfaction with all of our products and services. Get system support, training programs and pipette service from the people who know Gilson products the best. We are here to help and provide you with dependable solutions to accommodate your needs.
LEARN MORE
COVID-19 Testing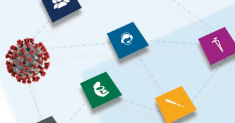 COVID-19 Testing: Liquid Handling Solutions to Support Your Efforts







LEARN MORE