Roto-Mini Plus Rotator, UK plug
The Roto Mini Plus variable speed rotator offers three operational mixing modes and accommodates many standard tube sizes, making it a flexible addition to any lab.
Flexible operational modes
With speeds between 5-70 rpm, the Roto Mini Plus variable speed rotator provides three different mixing modes to cover many applications, including:

• Mix - samples rotate with oscillations for increased mixing
• Pause - sample rotation includes periodic pauses
• Rock - samples gently rock in a see-saw manner
Adapt to many tube styles
The Roto Mini Plus includes four holders that cover the following common tubes sizes:

• 11 x 1.5/2.0 mL tubes
• 5 x 5/7 mL tubes
• 5 x 10/15 mL tubes
• 6 x 50 mL tubes/24 x 0.5 mL tubes
2022 Gilson Product Guide
The 2022 Gilson Product Guide is available now. Discover best sellers for your Liquid Handling, Purification, and Extraction needs!
Download
Gilson Services and Calibration Programs
Gilson is committed to quality and complete customer satisfaction with all of our products and services. Get system support, training programs and pipette service from the people who know Gilson products the best. We are here to help and provide you with dependable solutions to accommodate your needs.
LEARN MORE
COVID-19 Testing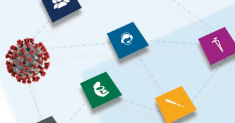 COVID-19 Testing: Liquid Handling Solutions to Support Your Efforts







LEARN MORE